Frank L Ashley High School
Class of 1965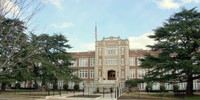 In Memory
William "Bill" Lewis Cathey Jr.
Bill Cathey, husband of Pam Pilcher and father of Jennifer Cathey-Roberts died October 17th, 2009 at Cottage Hospital in Santa Barbara after a very brief illness. He died of lung cancer at the age of 62. Bill retired in l998 from Munger, Tolles and Olson in Los Angeles where he became a partner in 1981 following graduation magna cum laude from the University of Michigan Law School. He served as Managing Editor of the Michigan Law Review and received the Bates Award as one of the four outstanding graduates of his class.
In his law practice, Bill specialized in corporate and securities law, with emphasis in mergers and acquisitions. His clients included Berkshire Hathaway Inc., City National Bank, Edison International, First Interstate Bancorp, Northrop Grumman Corp., Pacific Stock Exchange and the Vons Companies. Earlier, as a resident of Pasadena, he was actively involved in community affairs, serving as director and chair of Pasadena Heritage and director of Five Acres, a child care institution. He served on numerous City commissions including an appointment to the City Council in 1986.
Following retirement Bill moved with his wife Pam to Santa Ynez and continued his passion of community and civic participation. At the time of his death he was Vice Chair of the Solvang Friendship House and the Solvang Theatrefest. During 2000-2001 he served as foreperson on the Santa Barbara Civil Grand Jury. Bill was born in Gastonia, N.C. He holds a B.S. degree in Business Administration from the University of North Carolina. After college, he was an officer in the U.S. Air Force. During his service years he earned a M.A. in Public Administration from Central Michigan University.
Bill remained loyal to his roots and was a hard-core Tarheels fan. While watching UNC basketball games he would drape sweatshirts, t-shirts and banners around the den. He said it helped the team win. If the team was losing, he would bring out extra arsenal and place his Tarheels gnome and/or UNC platter in front of the TV for added support. He was also a prolific reader (sales at the Book Loft undoubtedly will drop) and read The New Yorker cover to cover for over 35 years.
Bill is survived by his wife of 21 years, Pam Pilcher, daughter Jennifer Cathey-Roberts and her husband John, and grandchildren, Max and Alex. A gathering of friends and family is planned for November 21st at 1pm at the family home. In lieu of flowers, the family requests donations made in Bill's name to Solvang Friendship House or UNC Middle Income Scholarship Fund.