Frank L Ashley High School
Class of 1965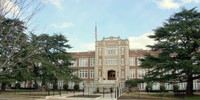 In Memory
Fred James Pearson

GASTONIA - Fred James Pearson, 67, passed away April 12, 2013, at CaroMont Regional Medical Center.

A native of Gaston County, he was born Sept. 26, 1945, son of the late Hattie and Jim Pearson.

In addition to his parents, he was preceded in death by his daughter, Julia Morris; brother, Keith Pearson; and sister, Frances Norton.

Mr. Pearson worked for Wix Filtration Corporation for 39 years, serving in many positions including Department Shipping Manager in Dillon, SC and H.R. Manager at the Dixon Plant in Gastonia.

Fred is survived by his son, James Pearson and wife Stacey; grandson, Clayton Pearson; and granddaughters, Taylor Lemley and Logan Morris.

The family would like to express their appreciation for the love and concern shown by the doctors and nurses at Caromont Regional Medical Center.

A memorial service, officiated by Pastor Joe Bell, will be held 6 p.m. Thursday at Greene Funeral Service, South Chapel, 1503 S. York Rd., Gastonia.

The family will receive friends at the funeral home one hour prior to the service.

In lieu of flowers, memorials may be sent to the American Diabetes Association .