Frank L Ashley High School
Class of 1965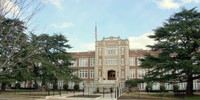 What's New
Posted on: Jul 09, 2020 at 1:43 PM
Well it has finally happened, as of 2 July 2020, one week ago today, I have joined the ranks of the "voluntarily unemployed", otherwise known as R*E*T*I*R*E*D. Any updates on possibility of a 55th Reunion this year?
Happy upcoming Birthday Tess!!
Happy Birthday, Tess!!! Hope you have a wonderful and blessed day!!!
Happy Birthday to the hardest hitting linebacker I have ever seen!!! If you are ever up this way, call me, and I will buy you lunch/dinner or both. 704-678-5356

Frank L Ashley High School Class of 1965
A new announcement has been added to the homepage:
How are you all getting along in quarantine? -
2020.... More…Well, hasn't it been a strange year so far. With all this separation I think we MUST have a gathering.
A REUNION? I'm thinking we absolutely positively have to gather....but when?..... maybe even very casually to celebrate our 55th year out of Frank L. Ashley High School. It is still difficult to believe it hs been that many years...
Happy Birthday, ole friend ????????. Hope you have a great day ??????